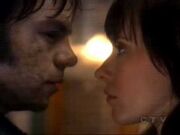 Marty Golden was a comedian from Grandview, New York, who frequently performed at the Comedy Cave. He dated Sandra Holloway until taking his own life.
Biography
Edit
Marty Golden was an aspiring comedian who performed at the Comedy Cave in Grandview. However, his comedic style did not appeal to the masses as much as his girlfriend, Sandra Holloway. When Sandra was offered a chance to go to Europe as part of a professional comedy tour, she refused, instead choosing to stay in Grandview to remain close to Marty. Marty tried to convince her to go, and after she continued to refuse, took his own life by jumping off a bridge.
After death
Edit
As a ghost, Marty was confused, not remembering taking his own life or even realizing that he was a ghost. He continued to visit the Comedy Cave until Andrea Marino and her friend Melinda Gordon came to open mic night at the club. Marty appeared to Melinda, who helped him unravel the mystery of his death and cross into the light.
Appearances
Edit
"Undead Comic" (First appearance)
Behind the scenes
Edit
Marty Golden's first and only appearance was in the episode "Undead Comic", the twelfth episode of Season One. He was portrayed by Jed Rees.